May 5, 2023
Digital Showcase
Humboldt Library
Artists & Performers
Humboldt's ideaFest has grown in recent years to include visual and performing artists, musicians, filmmakers, and much more! Each year in addition to our poster presentations, Cal Poly Humboldt students, staff, and faculty arrange live performances and presentations during the reception. Listed below are the projects and performers featured last year. Stay tuned for 2023 program updates...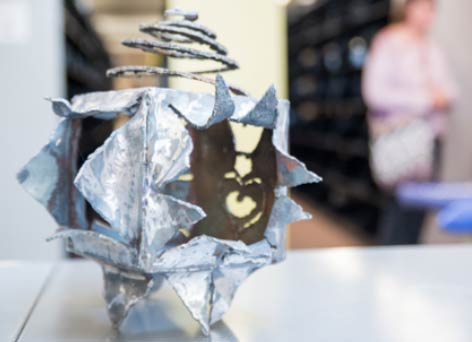 Humboldt Sculpture Walk
All Floors • Guided tours are at 12:00pm and 5:00pm
The sculpture walk will take you on a journey through the Library, as pieces are displayed in different locations appropriate for each piece. Once again, you will find that there is an abundance of high quality art created on this campus. This is part of the annual Humboldt Sculpture Walk, presented by the Associated Student Sculptors, which is an event designed to showcase the wide variety of artwork produced by the Humboldt Sculptor program and usually occurs April to May of every year, closing with commencement.
Guided tours are at 12:00 pm and 5:00pm
. Coordinated by Sondra Schwetman, Humboldt Sculpture Lab (
sondra.schwetman@humboldt.edu
)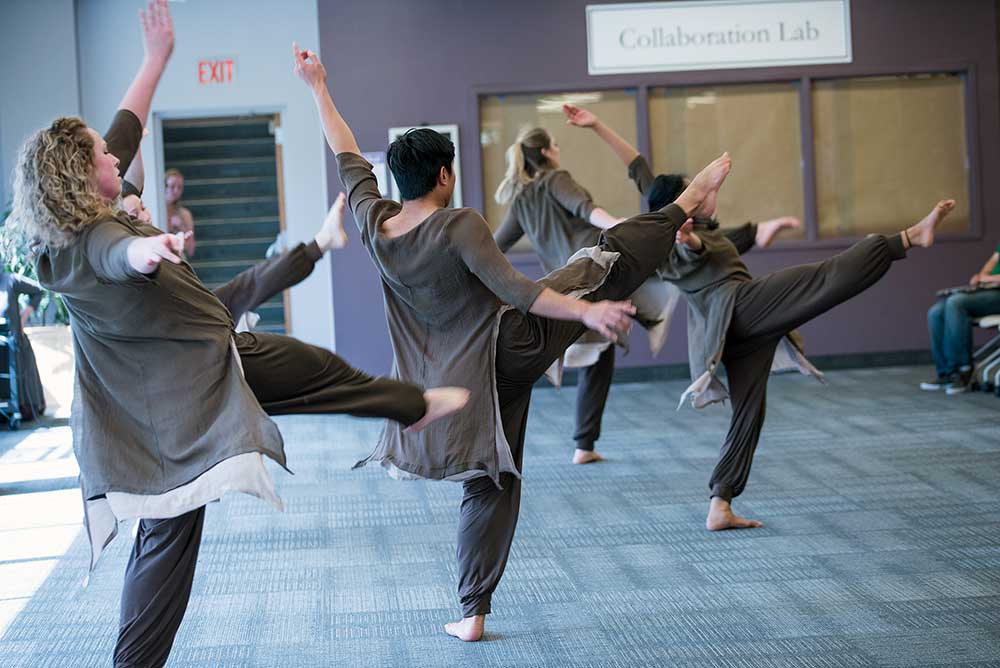 Dance Performances
Library 2nd Floor • 3:00 - 4:00 pm
Excerpts from the Dance Program's "Dance Visions" plus other student-created dance works in the styles of contemporary, Middle Eastern, and Jazz. Coordinated by Linda Maxwell, Theater Film & Dance, (Linda.Maxwell@humboldt.edu)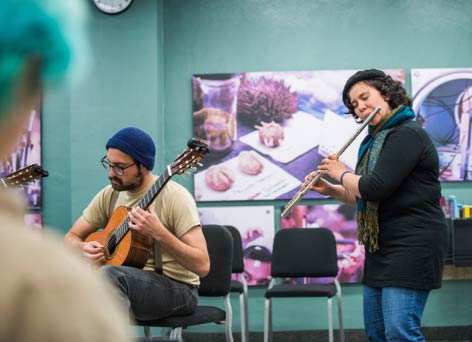 Musical Performances
Library 1st Floor • 3:00-4:15 pm
The music department will showcase Humboldt students as soloists, composers, and performers in chamber ensembles. Coordinated by Cindy Moyer and Virginia Ryder of the Music Department  (virginia.ryder@humboldt.edu)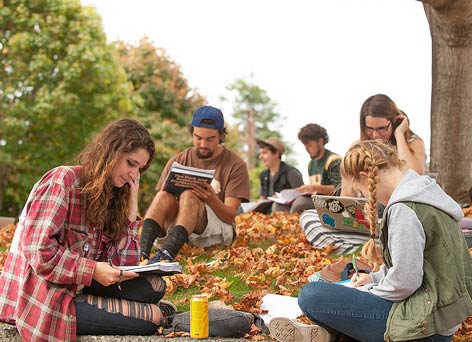 Celebration of First-Year Writing
Library Fishbowl 2nd Floor • 3:00-5:00 pm
First-year students at Cal Poly Humboldt will showcase academic and creative writing in various formats, including spoken word, digital posters, empirical research, and presentations.  Come celebrate first-year student writing. Coordinated by Lisa Tremain, English Department (Lisa.Tremain@humboldt.edu).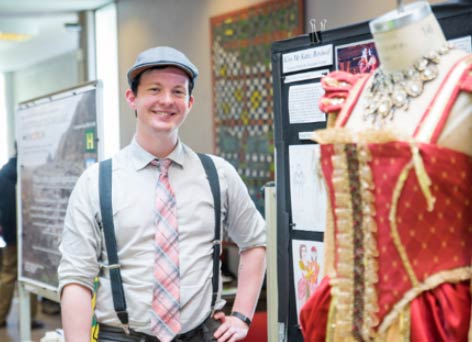 Theatre
Library 2nd Floor • 4:00 - 5:00 pm
Make-Up Demo: Theatre Course 221 'Makeup Design for Stage & Screen' happens every Spring and we create all sorts of makeup effects for stage productions and other projects. Contouring for glamorous looks, creepy latex and gelatin for fleshy creatures, sculpting and mask making and more; our students have a great time turning characters on a page into flesh and blood for audiences. Coordinated by L. Rae Robison, Theater Arts (lr32@humboldt.edu).
Lighting Demo: Students in Lighting Design for Stage & Screen (TA333) implement the elements of lighting design and explore the elements of light with color theory, drawing, and technology. Students creatively shift the audience's focus, set the mood, and transform the space. Light is "more to this than meets the eye!" Coordinated by Dionna F. Ndlovu, Theater Arts (Dionna.Fletcher@humboldt.edu).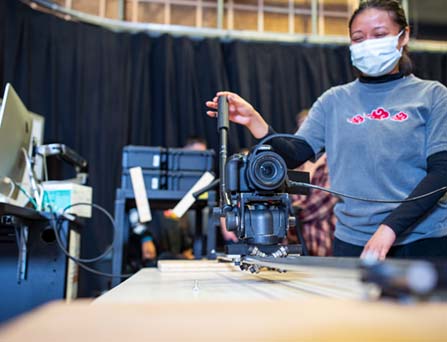 Film Department
Library 1st Floor Room 120 • 4:15 -5:00 pm
Film Screenings: The Film Program will feature outstanding short films by students made between Fall 2019 and Spring 2021. These collaborative works of art demonstrate the accomplishments of Cal Poly Humboldt's emerging filmmakers and their progression through our foundational Filmmaking I-IV production classes. Over two years, students hone creative and technical skills by producing original films and videos spanning the genres of narrative, documentary, social change and experimental. The films explore personal visions, social topics, internal worldscapes and even alien abductions. In sum they are the creative output of a diverse and talented group of up-and-coming filmmakers. Coordinated by Dave Jannetta, Film Department (dj86@humboldt.edu).
Library 3rd Floor • 4:00 -5:00 pm
Emerging Media for The Gallery: Get ready for some visceral and irrefutably powerful works, and possibly at times just 'weird' digital art, to be experienced through the human senses!  Cal Poly Humboldt's Film Program has ventured into 'Emerging Media for the Gallery' this Spring.  Students from the Film 378 course will be exhibiting a range of works that will explore and express their voices through new communications technologies, experimental filmmaking processes and multiple screen projections.  As a practice for visual storytelling and sensory experience, these collaborative works of 'emerging art' un-work to re-negotiate the borders of the screen that challenge human perception and demonstrate new narrative frame-works through 360-degree camera work and VR gaming platforms, augmented reality and sonic labyrinths, screen sculpture and other works of digital media translated through non-conventional presentation methods. Coordinated by Michelle L. Cartier, Film Department (Michelle.Cartier@humboldt.edu). 
ASSESStivus: Assessment for the rest of us!
Library 3rd Floor • 4:00-5:00 pm
Join us for "ASSESStivus: Assessment for the rest of us" to celebrate and recognize staff and faculty who have worked diligently this past year on all types of assessment: academic, co-curricular, and operational.  Assessment is undertaken to improve student learning and development; to improve the abilities and satisfaction of students, staff, and faculty; and to improve the design and delivery of university programs and services.  Assessment is viewed as an iterative cycle, not an endpoint, and so we pause this day to celebrate how far we've come. The reception program will start promptly at 4:00pm and include short presentations by both faculty and staff showcasing best practices. Coordinated by Amy Moffat, Associate Director of Institutional Assessment, Mark Wicklund Associate Director of Academic Assessment, and Lisa Bond Maupin, Deputy Chief of Staff and Special Assistant to the President.