May 5, 2023
Digital Showcase
Humboldt Library
Artists, Performers, & Lightning Talks
Humboldt's ideaFest has grown in recent years to include visual and performing artists, musicians, filmmakers, and much more! Each year in addition to our poster presentations, Cal Poly Humboldt students, staff, and faculty arrange live performances and presentations during the reception. Listed below are the projects and performers scheduled for 2023: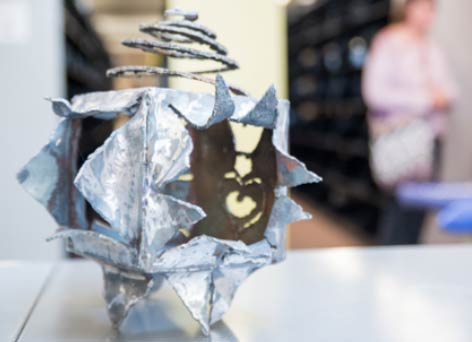 Humboldt Sculpture Walk
Library 1st Floor • Guided tours are at 12:00pm and 5:00pm
The sculpture walk will take you on a journey through the Library, as pieces are displayed in different locations appropriate for each piece. Once again, you will find that there is an abundance of high quality art created on this campus. This is part of the annual Humboldt Sculpture Walk, presented by the Associated Student Sculptors, which is an event designed to showcase the wide variety of artwork produced by the Humboldt Sculptor program and usually occurs April to May of every year, closing with commencement.
Guided tours are at 12:00 pm and 5:00pm
. Coordinated by Sondra Schwetman, Humboldt Sculpture Lab (
sondra.schwetman@humboldt.edu
)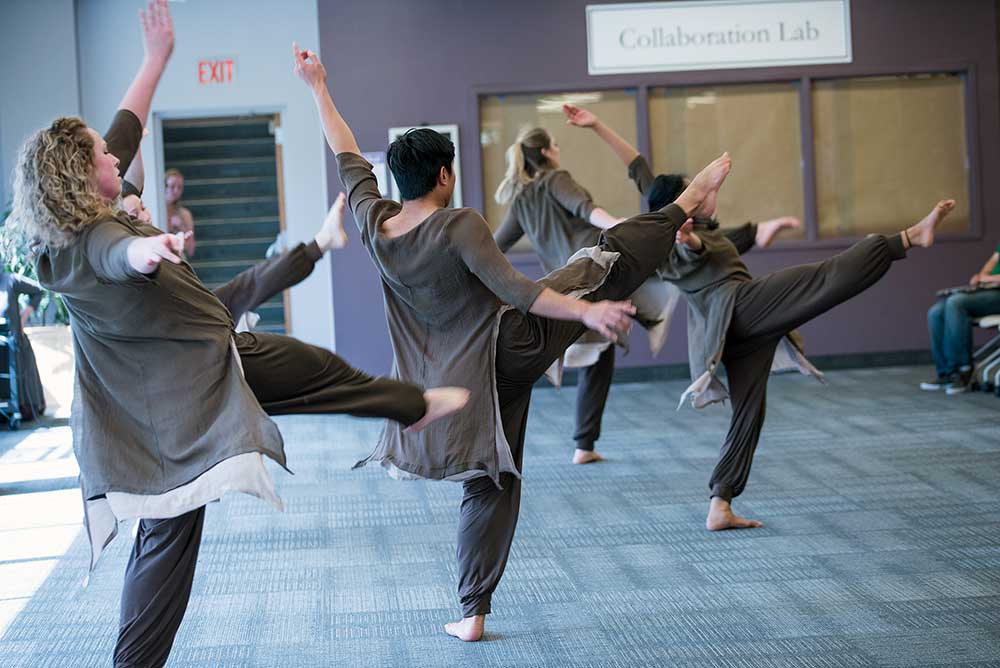 Dance Performances
Library 2nd Floor • 3:00 - 4:00 pm
Excerpts from the Dance Program's "Dance Visions" plus other student-created dance works in the styles of contemporary, Middle Eastern, and Jazz. Coordinated by Linda Maxwell, Theater Film & Dance, (Linda.Maxwell@humboldt.edu)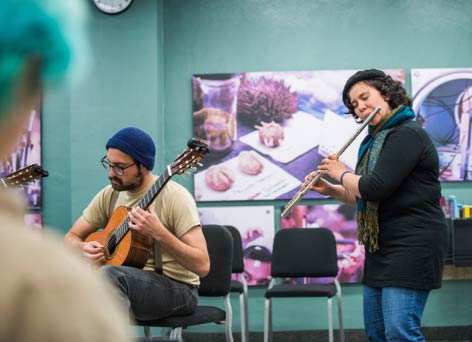 Musical Performances
Library 1st Floor • 2:00-4:00 pm
The music department will showcase Humboldt students as soloists, composers, and performers in chamber ensembles. Coordinated by Cindy Moyer and Virginia Ryder of the Music Department  (virginia.ryder@humboldt.edu)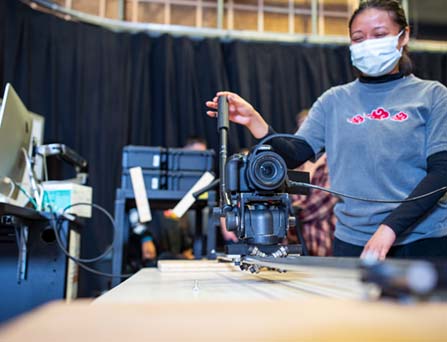 Film Department
Library 1st Floor Room 120 • 4:15 -5:00 pm
Film Screenings: The Film Program will feature a variety of outstanding, entertaining, and thoughtful recent short films. These collaborative works of art demonstrate the accomplishments of Cal Poly Humboldt's emerging filmmakers and their progression through our foundational Filmmaking I-IV production classes as well as various Film electives. Students hone creative and technical skills by producing original films and videos spanning the genres of narrative, documentary, social change and experimental. The films explore personal visions, social topics, internal worldscapes, and much more. They are the creative output of a diverse, talented, and extremely hard working group of up-and-coming filmmakers. Coordinated by Dave Jannetta, Film Professor and Program Lead, Art + Film Department (dj86@humboldt.edu).
Emerging Media for The Gallery
Library 3rd Floor • 4:00 -5:00 pm
QTBIPOC Film Coalition: Members of the student run digital humanities creative research team 'QTBIPOC Film Coalition' will be presenting works that explore the art of filmmaking, new media, and immersive/VR technologies from a social justice perspective.  Working with Dr. Michelle Cartier to develop an interactive presentation of immersive virtual reality works that are examining authentic experiences of Representation in Film and actively seeking to 'Rearticulate the Gaze' through the narrative frameworks of popular cinema, lead research assistants, Daniel Garcia (CRGS Major) and Matthew Mason (film major) will also be sharing out on their recent experience of getting to visit Austin, Texas for the SXSW Conference as a part of being awarded the Research, Scholarship, and Creative Activities Program grant (RSCA) for digital humanities creative research development at Cal Poly Humboldt.
16mm Filmmaking and New Media: Get ready for some visceral and irrefutably powerful works, and possibly at times just 'weird' analog and digital art, to be experienced through the human senses!  Cal Poly Humboldt's Film Program is still celebrating the love of celluloid and making 16mm films while also venturing into 'New Media' this Spring.  Students from the Film 478 course will be exhibiting a range of works that will explore and express their voices through new communications technologies, experimental filmmaking processes and multiple screen projections.  As a practice for visual storytelling and sensory experience, these collaborative works of 'emerging art' and 'new media' un-work to renegotiate the borders of the screen that challenge human perception and demonstrate new narrative frame-works through 360-degree camera work and VR environments, the loveable kinesthetic grain of 16mm film, augmented reality and sonic labyrinths, screen sculpture and other works of analog and digital media translated through non-conventional presentation methods. Coordinated by Dr. Michelle L. Cartier, Film Program (Michelle.Cartier@humboldt.edu).
CIRM Bridges 3.0 Connect Lightning Talks
Library Fishbowl 2nd Floor • 3:00-5:00 pm
Cal Poly Humboldt CIRM Bridges scholars are pleased to present their research in regenerative medicine to our campus and community in 5-minute lightning talks with discussion to follow.
The Humboldt CIRM (California Institute for Regenerative Medicine) Bridges Programs supports student internships in research laboratories developing cell-based therapies to address unmet medical needs. This year's CIRM Bridges student interns in regenerative medicine research are approaching the end of their 12-month internship in stem cell biology and regenerative medicine at one of our outstanding collaborating host institutions: The Stanford University Institute for Stem Cell Biology and Regenerative Medicine and The University of California Davis Stem Cell Program. They have received advanced training in the research methods and good manufacturing practices required to develop cellular-based therapies for emerging and unmet medical needs. Posters of the work will also be available for viewing. 
"Becoming a Polytechnic" Humboldt Journal of Social Relations - Celebrating 50 Years
Library 3nd Floor (317) • 2:45 pm
The Humboldt Journal of Social Relations (HJSR) celebrates 50 years of publication with the release of the 2023 issue "Becoming a Polytechnic." Issue editors seeded multidisciplinary conversations that wrestle with pressing local and regional problems as the university embraces its new identity as the third polytechnic in the California State University system. With contributions from 76 Humboldt faculty, staff, students, alumni, and community members, the work sets the stage for creative, forward-thinking scholarly collaborations and educational visions that have been signatures of Cal Poly Humboldt. The articles include a range of topics including the arts, traditional ecological knowledge, literacy, wildfire management, energy, sea level rise, nursing and teacher education, and the history and future of cannabis. The issue is dedicated to Samuel P. Oliner, who in 1973 founded the journal. Oliner was a professor of sociology at Humboldt who published and spoke internationally on research on altruism inspired by his experiences as a Holocaust survivor. Through support from the Humboldt Sponsored Programs Foundation, limited complimentary hard copies of the 2023 HJSR issue will be available for free at the journal reception. 
Celebration of First-Year Writing
Library 2nd Floor • 3:00-5:00 pm
First-year Composition and Rhetoric students at Cal Poly Humboldt will showcase digital multimodal projects including video, podcast, poetry, collage, and more... Come celebrate first-year student writing! Coordinated by Erin Sullivan, English Department.